Sumo Thunder is an unnamed hero that appeared in Episode 14, as part of the Second League heroes in charge of dealing with minor crimes. He is rather large, and seems to carry a weapon behind him.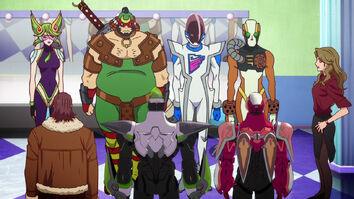 His NEXT power is the ability to shoot salt from his hands, although this appears to do little more than just annoy criminals. However, this doesn't seem to be very useful in the field.
Ad blocker interference detected!
Wikia is a free-to-use site that makes money from advertising. We have a modified experience for viewers using ad blockers

Wikia is not accessible if you've made further modifications. Remove the custom ad blocker rule(s) and the page will load as expected.